Technology Waste
Wondering what to do with your old:
Cell Phone

Cell Phone Battery

Cell Phone Accessories

PDA

Digital Camera

Pager

Beeper

or Two-Way Radio?

RECYCLE IT!
Take your "eWaste" to the following drop off locations and help support the Muncie Mission!
Muncie Post Offices

Muncie City Hall

Delaware County Building

Mutual Federal Savings Bank

PrimeTrust Federal Credit Union (Bethel and Madison Branches)

Ontario Systems

Yorktown Post Office

Daleville Post Office

Selma Post Office

Eaton Post Office

Simply Wireless

Comnet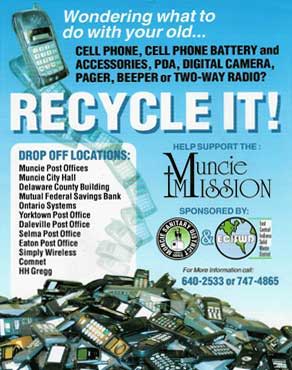 For the larger electronics (ex. Printers, computer monitors) please drop off to East Central Recycling during normal business hours, M-F 8 a.m. – 5:00 p.m. and Sat 8 a.m. -12p. For additional questions, please call 282-1900.
For more information call 640-2533 or 765-213-6450. Sponsored by the Muncie Sanitary District and the East Central Indiana Solid Waste District.