Blue Bags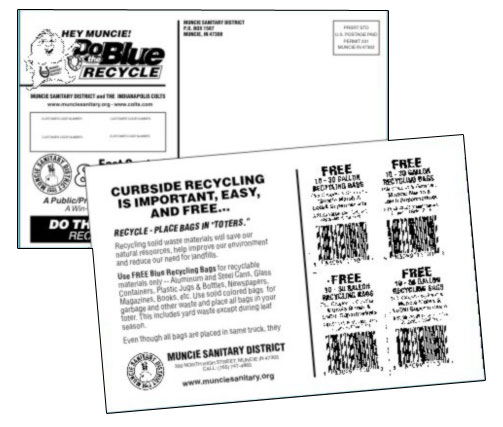 1. Coupons For Free Bags
Watch for this COUPON CARD in the mail every four months. Each coupon is worth a roll of 10- 30 gallon recycling bags. To sign up to receive the coupons in the mail, please call 765-747-4894 or email billing@munciesanitary.org.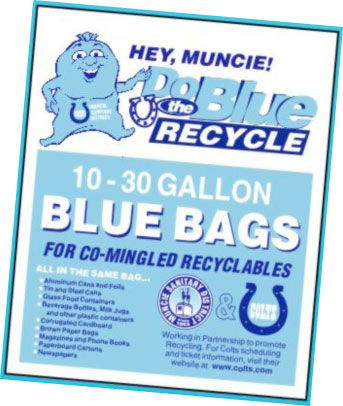 2. Look For This Display
Look for this display when you shop at the Muncie Mall and other retail stores and pick up your FREE Recycling Bags.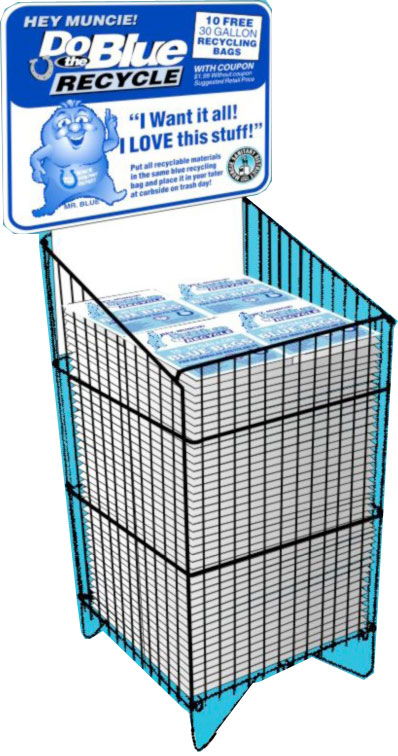 3. Recycle - Place All Bags In Your "Toter" For Pickup!
Use Blue Recycling Bags for recyclable materials only - Aluminum and Steel Cans, Glass Containers, Plastic Jugs and Bottles, Newspapers, Magazines, Books, etc. Use solid colored bags for garbage and other waste. Place all bags in your "toter" and take to curbside on your normal collection day.
Here are some of the places you can redeem your coupons:
All four CVS Pharmacy Locations in Muncie
Cover-Tek

Muncie Public Libraries

Cardinal Greenway Depot

Muncie Mall Guest Services

Sewage Utility Office

Downtown Development Office

Downtown Farm Stand

MD's Golf Academy

Be Here Now

The Fickle Peach

Kirk's Bike Shop

Boys and Girls Club

Habitat Home ReStore

Minnetrista Orchard Shop
Pay Less on McGalliard